We're changing womxn's lives.
We provide job opportunities to womxn overcoming adversity through our employment training program. During their time working with us over the course of 6-9 months, womxn gain the skills and confidence they need to transition into their next phase of life.

With our open hiring model, we take an individualized approach to meet womxn where they're at, regardless of their background and previous job history. Through an inclusive work environment and on-the-job training and mentorship, we cultivate a space for womxn to grow, and ultimately serve as a stepping stone to their next phase of employment. Success looks different for each woman who joins our team, and our goal is to be a guide in helping them reach their personal and professional goals.


"The Ground Up community is family. We look out for each other, we don't just focus on our particular task at that moment. There is selflessness and teamwork here. We build each other up."

To remove employment barriers for womxn overcoming adversity by providing job training and mentorship through a social enterprise that produces healthy and delicious nut butters.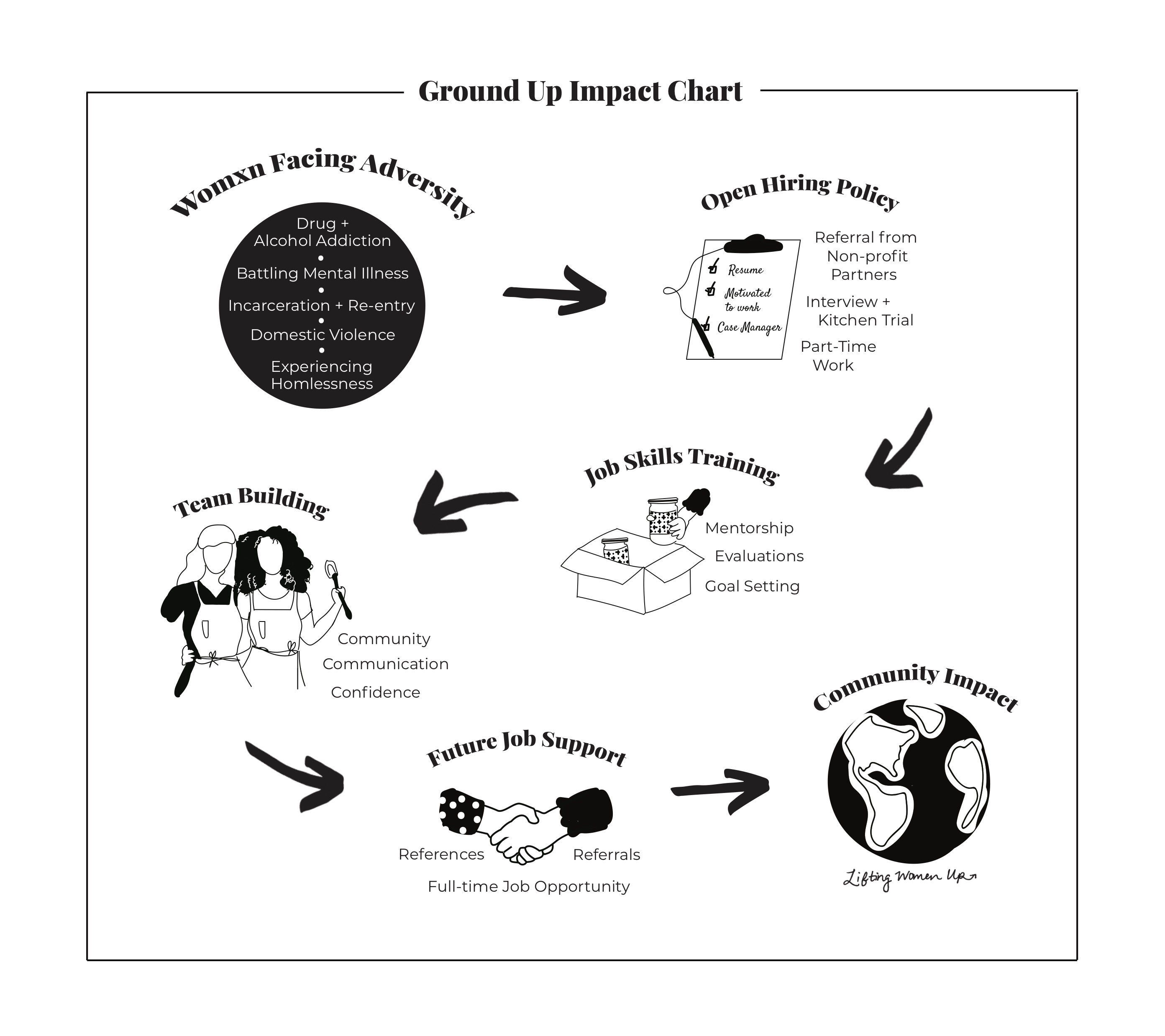 Homelessness is a real issue in our city.
Womxn trying to get back on their feet often have the motivation to work, but lack the skills, experience, or confidence to be hired by an employer. Through conversation, we learned that a part-time job (10 to 20 hours a week) would have a huge impact on their ability to save up while searching for housing, and give them the job experience and confidence they need to make the transition into longer term employment.

Through the sale of delicious and healthy nut butters, we hire womxn overcoming adversity to work with us part-time, giving them an opportunity to learn everything from sales and marketing to working in a commercial kitchen space. After 6-9 months in our employment training program, they have the job skills, on-the-job mentoring and ultimately the confidence to transition into their next phase of life.

We are convinced that if you create economic and personal stability in a womxn's life, the trickle down effect to her family and community will be powerful and dramatic. So not only are our nut butters good for you (hello, healthy fats and no added sugar), but you can feel good eating them because they help to spread good, too.
Our Partner Organizations

Join our Training Program

Interested in joining our Training Program? Apply here!
For questions about how to become a referral partner or regarding
the Training Program, please contact: hiring@grounduppdx.com
✕